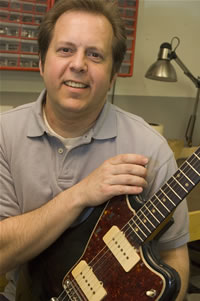 I started playing guitar about eleven years ago and was immediately drawn to vintage instruments. They just have such a feel and vibe to them. A longtime fan of '60s instrumental surf music, I sought out a few of the popular guitars from this genre. I quickly discovered that these old guitars really didn't play all that well in their used condition! After having a couple of my new old guitars serviced and not being completely happy with them, I decided to get some proper tools and work out the bugs myself.
After getting the hang of things, I found that I really enjoyed bringing these guitars back into great playing condition. Having always been interested in things mechanical, this just seemed to be a natural progression. But a guitar was so much more than just 'mechanical'... it was alive!
For several years I continued to learn what I could and kept my guitars and some of my friends guitars going. A little over three years ago, a friend said I should think about repairing guitars full time. I didn't have to think about it for long at all!
Since then I have had the opportunity to learn volumes from a few people I have the utmost respect and admiration for. I spent most of one year learning from a friend and longtime repair idol of mine, Kraig Phillips. That time would change the way I looked at guitars forever. In the summer of 2005 I spent two months at the Galloup School of Lutherie in northern Michigan. This too has had a profound effect on my work and my perspective. To Kraig, Bryan Galloup and Russ Olmstead I am very greatful.
I look at a guitar as a very personal thing. Each one has its own personality, just as its owner. My mission is to have your guitar playing at its best, while maintaining its utmost integrity.
Enjoy your guitar and I look forward to talking with you!
- Dave